Uncover My Secret Formula For Developing Long-lasting Flexibility As A Martial Artist!
I remember when I was trying to improve my flexibility. I would get so frustrated because of the lack of information out there specifically for the martial arts athlete. We have different things to consider in our flexibility training such as mobility, strength, power, explosiveness, speed, and technique and I couldn't find anything that provided all the pieces to the puzzle.


So for years, I watched countless videos, read countless articles, learned from many instructors, and went through unending trial and error until I found the winning formula!


I want to help other people gain access to this knowledge without having to make so many mistakes and decipher the good information from the bad. I also wanted the information to be available to anyone who wanted access to it.
That's why I created this course. It is the answer for so many people out there who are frustrated with their lack of flexibility results and are ready to give up all together. I hope it can inspire you to get back out there and get the results you deserve!
MEET CASEY
After almost 20 years of martial arts experience, she was starting to believe that her body just wasn't made to be flexible, but after just one week in the course...she realized that wasn't the case at all!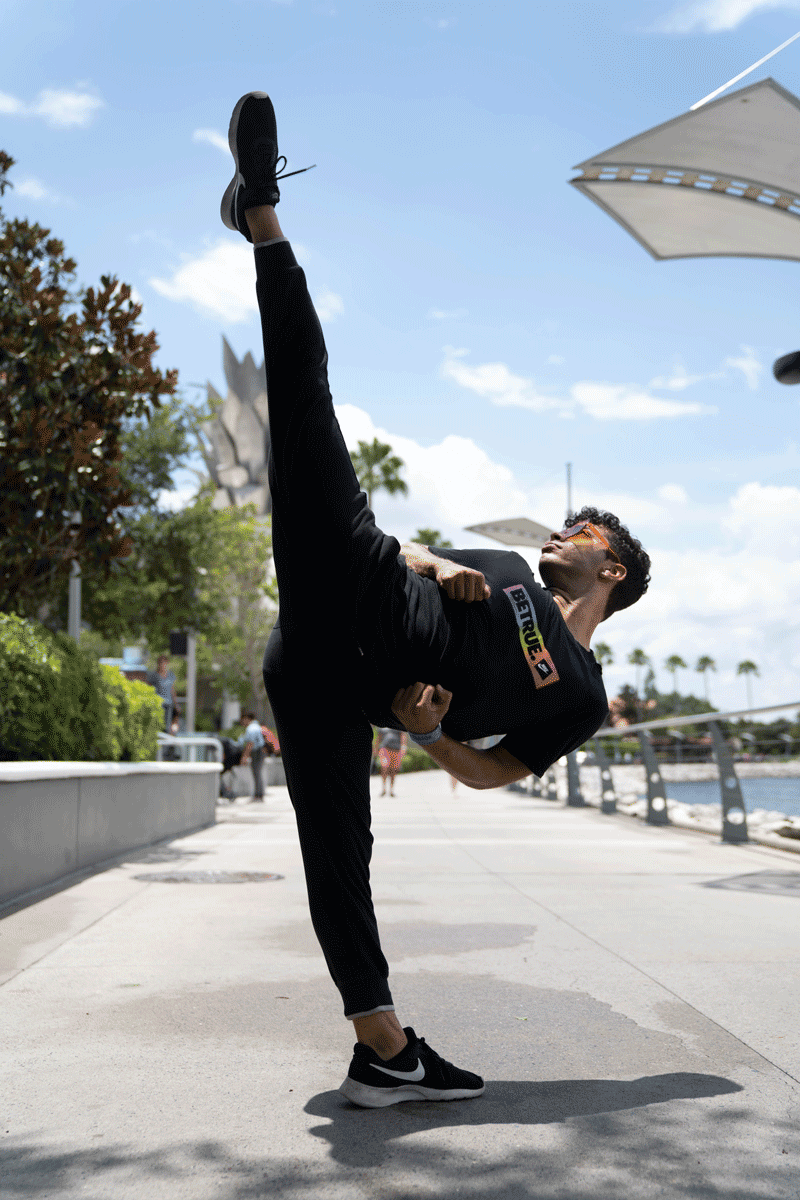 Hello! My name is Donavan Barrett. I'm a 4th Dan black belt in WT Taekwondo. I've been training since I was only 7 years old and have been teaching since I was only 16. I'm incredibly passionate about helping people push past their limits and unlock potential they never thought possible. I'm incredibly grateful that I've been able to help not only my own private students improve flexibility and kicking performance, but thousands around the world thanks to the power of social media.
Having flexibility makes EVERYTHING easier in martial arts. You'll be able to kick faster, harder, and higher and it will feel easier than it ever has because you won't have to work so hard overcompensating different parts of your body to make up for lack of flexibility in certain muscles.
This course means so much to me because it combines the years of trial and error over the years and provides a tested method of flexibility that has not only helped me, but everyone I've had the pleasure of teaching. Now, I can help people from anywhere in the world gain access to this knowledge, avoid the mistakes I made when trying to improve flexibility, and get the results they're looking for faster than they imagined.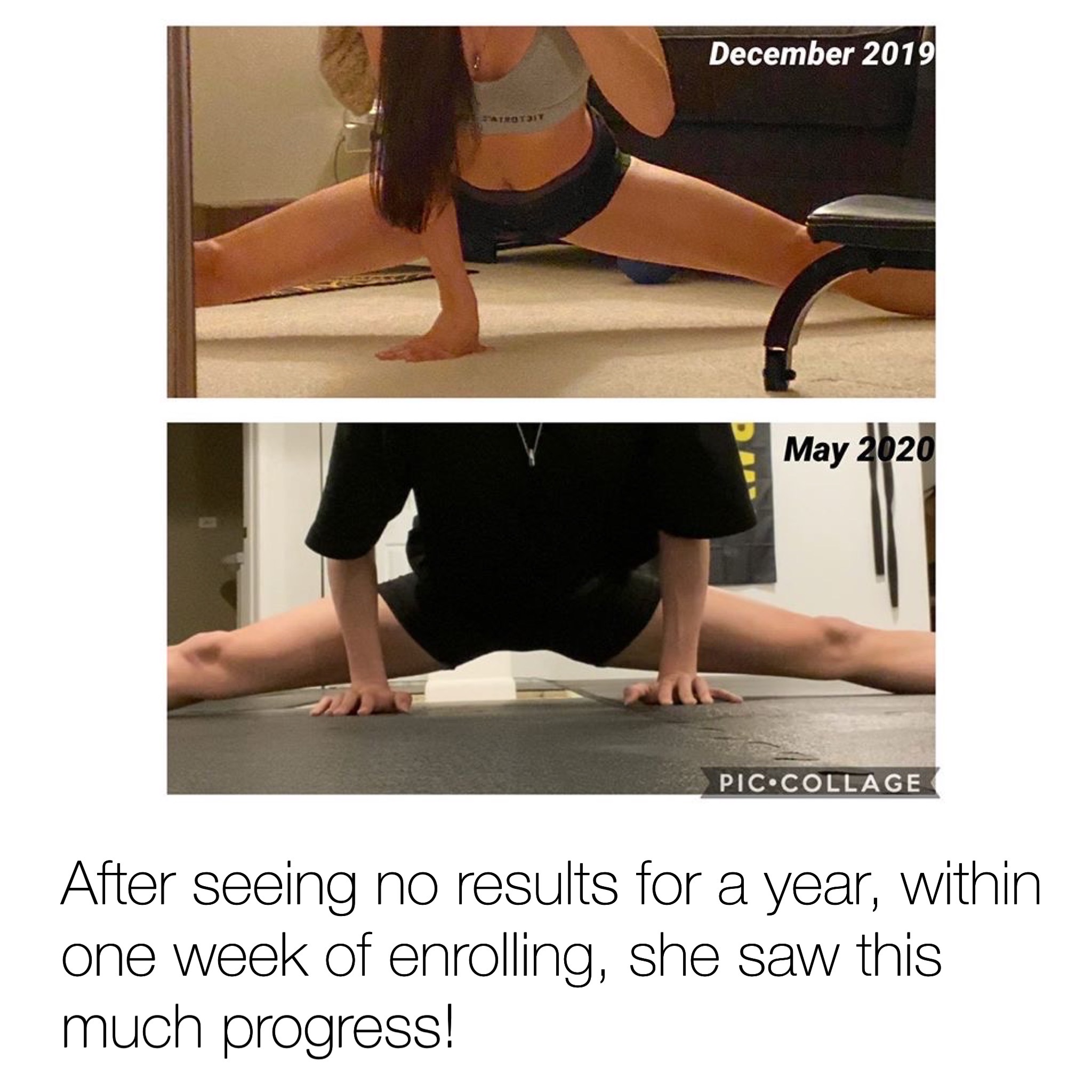 Meet Cristina!
"Hey Donavan,
I was in your online class that you had last week on Functional Flexibility. I just wanted to hop on here and personally thank you for all of the amazing work you put into that course. I spent nights watching it. And I've added quite a few things into my routine this last week and I honestly cannot believe the difference it has made. You completely blew my mind with how knowledgeable you are on this subject and to top it off you took away every doubt I had because of me starting at a later age.
I am 32 so I was told by many yoga instructors and people that train in Taekwondo that sometimes it's just not possible at our age or because of the way our body is. I've been at a plateau for geesh almost a year and in just one week of doing what you taught I have made progress that I was told wasn't possible for me. So thank you Donovan! I will attach a picture below I'm blown away because I've been stuck at the top picture for so long, and it's only been a week."
Meet Michael!
"Hi Donavan,
After going through your entire course, I have positioned myself in between intermediate and advanced flexibility and I have really benefited from your explanation of the function of different types of stretches and how I have always neglected a certain part of my flexibility since I thought I didn't need it.
I have drafted my first stretching routine referencing your tutorials and after the first few days of practicing the routine, I am already seeing progress past my plateau which has bothered me for a long time. So thank you for sharing the experiences you have gained throughout the years, saving me from the unending trial and error."
Michael (5th Dan Black Belt)
FAQ
How long will I have access to the course?
A: After payment, you have access to the course forever!
Is this course beginner friendly?
A: This course is suited for everyone beginner-advanced. The instructional knowledge is critical for everyone regardless of experience. There are three different workouts. One for beginner, intermediate, and advanced practitioners. The course also teaches you how to create your own Functional Flexibility routine that works specifically for you!
Have any other questions? Contact Donavan at [email protected]
Meet Alfredo!
This is my personal review on Donavan's FUNCTIONAL FLEXIBILITY COURSE after following it for exactly one month.
"I've been practicing Martial Arts for 30 years, literally amost all my life.
During that time, unfortuantely I got a severe injury to my lower back (almost paralized).
After that and lots of therapies and time to recover I slowly started to train again.
Nothing I'd like to wish to my worst enemy; it seemed that I didn't train at all until that moment.
I remember I was not even be able to do 10 crunches in a row! Lost the majoriry of my strength and flexibility.
So what? I decided to clear my mind, let the past as it's been not mine and start all over again.
I started with a gymnastic strenght and flexibility training.
My back still hurt like hell even during basic exercises but I knew it was just matter ot time (actually a lot of time).
Some days I was able to train, others not.
But Hey! It was better than doing nothing.
Luckly over time I got better and better; not to say that today I'm completely pain free (occasionaly still need some therapies) but way more stronger than in my twenties.
But Love is Love and my heart is in the martial art.
So at certain point I decided to start training again and I noticed that even if my general condition was not bad, I lacked in strength and flexibility for kicking. 
That's the moment I found out Donavan's FUNCTIONAL FLEXIBILITY COURSE.
What to say?
It's just amazing.
I find the program helping me out tremendously.
It incorporates dynamic, peaceful stretching, strength and balance exercises designed to help you in those high kicks.
In just one month I gained so much in terms of strength to hold those legs in the higher position (that allowed by my current flexilility).
Not only that: it addressed my weakness in the hips and really helping me to slowly open them up.
Those "hip openers" are great!
It'll take time of course but I'm really confident to say that it'll work!
You can not expect to get results overnight; it takes passion, dedication and hard work (as in all things in life); we all know that but at the end the results will come.
The course is very well designed and I highly recommend to everyone willing to gain those capabilities or regain better overall physical condition.
If it worked for me in my not optimal conditions, I can not imagine what it could do to anyone with no issues at all.
I can not wait to see further results in the months to come.
Thanks so much Donavan from the bottom of my heart for creating such a wonderful program and sharing it with all who have the true desire to improve."
Alfredo Marano
4th Degree Black Belt Karate
Italy